Join our Co-Founder and CEO, Julia Stamberger, at the Canaccord Genuity AgriFood Tech Innovation Virtual Forum on December 2nd at 8:30 AM ET.
Click here to register.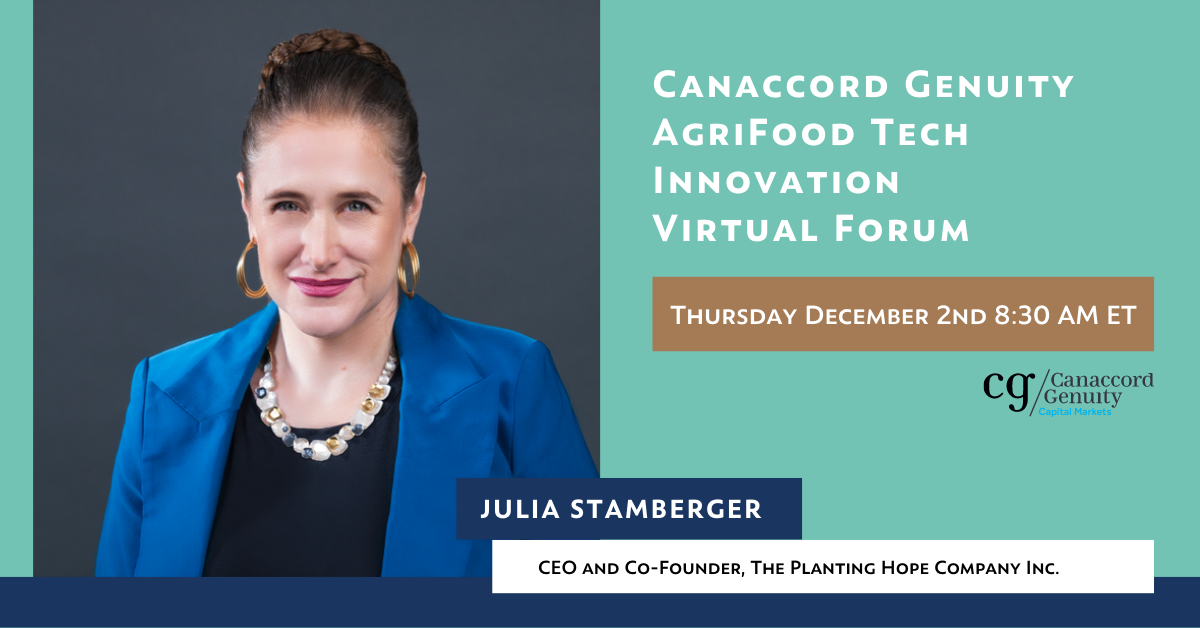 About Us
The Planting Hope Company Inc. develops, launches and scales uniquely innovative plant-based and planet-friendly food & beverage brands. Our cutting-edge products fill key unmet needs in the skyrocketing plant-based food & beverage space. Founded by experienced food industry entrepreneurs, The Planting Hope Company Inc is a women-managed and led company, focused on three impact pillars: nutrition, sustainability, and representation.
We've cracked the code on plant milk, the biggest overall opportunity in the enormous plant-based space, with our breakthrough Hope & Sesame® sesamemilk. Plant-based dairy is projected to reach upwards of $62 billion globally by 2030, and plant milk represents 75% of that market.
Hope and Sesame® sesamemilk fills in giant gaps in the plant milk market for alternatives that are both nutritionally comparable to dairy milk and planet-friendly. Our sesamemilk contains 8g of complete protein per serving, plus it's an excellent source of Vitamin D and has 30% more calcium than dairy milk! That's 8x the protein in most almond and nut milks and 3x the protein in most oat milks.
Sesame is an amazing crop: it thrives in hot, dry climates, requires very little water to cultivate, is naturally pest-resistant and can self-pollinate. After sesame seeds are pressed for oil, we make sesamemilk with the rest of the sesame – some call this 'upcycling', we call it 'using the most nutritious part of the seed!' Meanwhile, almond and nut crops are dependent on pollinators and pesticides, and are highly water intensive to grow and to process; even oats require substantial water to process enzymatically into oat milk.
Our Hope and Sesame® sesamemilk is the world's first commercialized sesamemilk, deriving its core nutrition from sesame seeds, and took more than 4 years of development to perfect. With myriad industry awards behind our products, we're starting to scale them to retailers and consumers in North America and internationally. Sesame has strong cultural and culinary relevance in countries worldwide where sesame is cultivated, and sesamemilk is uniquely positioned to be successful in these markets, which also have a high proportion of dairy intolerance in the population.
Together with our rapidly scaling snack brands (Mozaics™ real veggie chips and Veggicopia® veggie snacks), we have created a platform of pantry-staple products for flexitarian consumers embracing plant-based foods, tackling key portions of the exploding plant-based space with unique innovative solutions to everyday customer needs.
Our Brands
Latest News
Board & Management